I said it before. And I said it again. And now, I will say it once again: misery is my main motivation.
And it really doesn't get much more miserable than yesterday morning.
It was supposed to rain about twelve-thirty. My leg told me it could be sooner. I went to the pool at nine-thirty anyway because swimming is now part of my religion. (Sit tight, there will be more on religion later…)
I got in. The pool was cold. My leg hurt. I started swimming. Moving right along.
About fifteen minutes into my swim, I felt the rush of water that comes from an enthusiastic flip turner in an adjacent lane. I looked over and saw the familiar tattoos of a dude who was once my friend, tried to take me out on a date (many, many, many, many months ago now), but he realized I wasn't kidding about being crippled, and tried to be my friend again before abandoning the effort to move on to another girl who, quite coincidentally, lives four blocks from my old apartment in The City and, compounding the irony, she just so happens to belong to my former luxury gym with a beautiful indoor evenly-heated pool. Whatever. The dude. We are both athletes (one more legitimate than the other), go to the same YMCA, and sometimes see each other at the pool. It's cool. No hard feelings.
Except: I knew that there were two other empty lanes on the other side of the other lane beside me. The lane he chose was next to the water aerobics class. Nobody ever chooses to be in the lane next to the water aerobics class. I won't explain the reasons why, but you can imagine… So what the fuck? Whatever. I kept swimming.
Except: he, for some unexplained reason, deliberately swam directly beside me, keeping pace with me (note: he is a much faster swimmer than I am). And what you have to understand is that this guy is not just a triathlete, but an ironman. He moves a lot of water when he swims.
There were a couple of laps when I almost felt like a dolphin playing in an ocean liner's wake,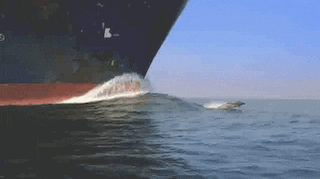 but, for the most part, I was more like a dinghy in a hurricane, especially if I didn't perfectly time my duck dive under the flip turn wave.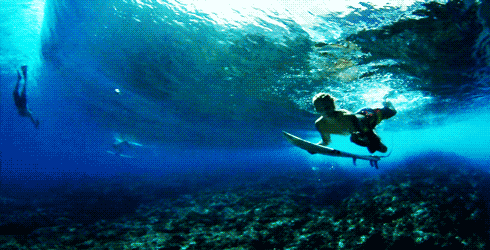 My leg was hurting, I had swam for about forty minutes, I knew the rain was coming. I told myself just a few more laps. I felt water on my arms and head as I swam. Is this guy really splashing that much??? No. It was raining. I was done.
I got to the shallow end of the lane just as the deluge began. I pulled myself out of the pool, as the lifeguard was putting my belongings under an umbrella he had set up on one of the tables (note: the lifeguard is, as he should be, the hero of this story).
Rain was pouring, my leg was shaking violently. I huddled under the umbrella, wrapped in a towel, standing with my spasming right leg propped on a chair. The rain dripped off of the umbrella and onto my leg which was partially covered by my towel. The result: my towel got more soaked with every second I stood there trying to stay dry/warm and stop shaking.
As I was adjusting my towel in a fashion to reduce sopping up rain water, it happened. Lightning. Everyone, including the dude, had to get out of the water. He came over to the table to assess the situation, and check his phone. We had a brief, disjoined pseudo-conversation. "This misery motivates me," I said.
He said something like, "There's someplace you'd rather be?"
I said something like, "Yeah, not crippled and in my old apartment, working."
The lifeguard came over and told us that he needed to clear the pool deck for 30 minutes. I, humiliated and shaking pathetically, whispered, "I can't walk."
"I will help you," the lifeguard said. He took my backpack, shoes, and offered me his arm, which I did not take. I have to have some amount of dignity, after all. And then, my swimming buddy buzzed past me and said, "Well, I'm off to greener pastures."
Awesome. Very helpful comment. Thanks for that.
The lifeguard set up two chairs for me in the holding area where I was to wait out the storm. I sat, facing the pool through a locked gate, my right leg extended in front of me shaking on the second chair.
Two other women waited with me because they wanted to continue their swim after the storm. Both women are regulars like me. One sat next to me and started a conversation. "How old are you?" she asked me. I told her. Her eyes bugged. She said, "I thought you were 24, maybe 26, 30 tops." I had no response so I blinked at her instead. She continued, "you have no body fat. Your stomach is completely flat…"
At that point, I tuned her out because I wanted my leg to stop shaking and stop hurting. I wasn't interested in entertaining her accolades about how young and fit I look. She is a very sweet, well-intentioned lady. She finally mentioned that her two children were born the year before and the year after me. I changed the topic conversation to be about her children.
Fifteen minutes into the thirty minute wait since the lightning strike, the second woman decided to approach me with her hands raised. "You look like you are really suffering. Do you mind if I pray for you?"
Oh for fuck's sake…
You see, around here, people have some bizarre notion that if they "lay hands" and speak in tongues and say things like "Jesus, strike the devil from her leg…" then I will magically, miraculously be "cured" by Jesus's Almighty Grace. Or something.
People have "laid hands" on me several times in the past three years. That's not the way CRPS works. Apparently it isn't the way Jesus works either because I should have been "cured" many times by now. But, guess what? My leg still shakes. I still have CRPS.
I wasn't in the mood. I told her that she may not touch me. She put her hands down. I said that if she wanted to pray silently, I would appreciate it. I followed up with an informative "but…" letting her know that Jesus most definitely already knows about my leg.
The three of us then sat in awkward silence, avoiding eye contact, until the lifeguard came out of his office, gave the all clear, and re-opened the gate.
The sun was shining again. The lifeguard carried my backpack and shoes back out to the deck and set me up on one of the deck chairs.
The spasms continued for an additional 45 minutes. The pain had made me dizzy and nauseous. I took slow controlled breaths and sipped water for 30 minutes after the spasms stopped.
What's so motivating about this craptastic tapestry of annoyance, humiliation, and frustration? You see, I can't stand that this is my life. I still can't believe that this is my life. This cannot be my life. It has to change. Things have to improve. I must work to change it. I must keep fighting.