I spent the weekend binge watching Australia's version of The Biggest Loser (tangentially, Australia has a number of reality shows that are just as good as, if not better than, their American counterparts. My Australian favorites are: The Biggest Loser, Australia's Next Top Model, MasterChef… Anyway…).
For years, The Biggest Loser has been one of my guilty pleasures. But more than a guilty pleasure, the show is very inspirational for me. It used to help reinforce the mindset to keep pushing harder, keep working through the pain, keep going until the point of ultimate physical exhaustion. I spent decades pushing harder, working through pain, and going until the point of ultimate physical exhaustion. The reward was always worth the extra effort. I always became stronger and more focused.
My binge-watching weekend made me think: everything in my life must now be put into context of CRPS, even my beloved Biggest Losers.
Now that I have CRPS, there is no such thing as pushing past the pain. As the pain becomes exponentially worse, my leg fails and does not respond. Pushing harder becomes an impossibility, and ultimate physical exhaustion never comes. Very carefully, I must monitor and cater to every sensation in my dumb CRPS leg. Otherwise, I will be in bed for a week or two, fighting a flare.
Moreover, it has taken me almost three years to realize: the good days are tricks. Good days do not mean that I am more physically capable. A good day is not a CRPS-free day. On a good day, the nostrils and eyes of the alligator are peaking just above the water. The alligator is still there, lurking, and if provoked, it will attack.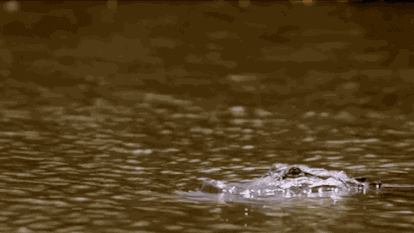 Of course, this is a lesson I've been learning the hard way.
I had a good day two weeks ago. I woke up and my foot moved with more ease, the constant buzzing was quieter, my leg wasn't as cold, the skin fire was smoldering, the gunshot wound felt like it was healing. I walked a little less like Charlie Chaplin. It was wonderful. I swam longer than usual. I did my full set of PT exercises. I tried some basic ballet barre exercises with my right foot. It was glorious. I wanted to push harder, but the pain and all of the accompanying CRPS symptoms crept back. Before the end of the day, I could feel the flare coming.
I am still not back to where I was the day before my good day. A good day is a mind fuck; in some way, good days are the worst part of having CRPS. There is no logical explanation for the extent of this recent flare. I didn't put forth any kind of effort that should have pushed my leg into this level of rebellion. I didn't run a marathon, I didn't ride 100 miles on my bike, I didn't perform (or rehearse) swan lake, I didn't do 32 fouettes en pointe.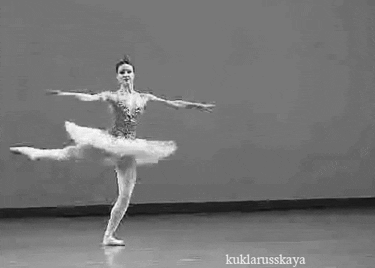 For half of a day, I lost my troll-like gait, I swam 15 minutes longer, I did 20 reps of 5 exercises with a red theraband, and I did about 16 tendus with my right leg. There was no reward for my (minimal) extra effort. I am weaker and more aimless.
I guess I'm starting to get it. I need to actively seek some kind of CRPS homeostasis, where I don't try to push myself to achieve any kind of tangible physical milestone.
My perception of success must shift.
Maybe success is to be measured in flare-free days instead of HIIT workouts, muscle density, or hours spent on the bike or in the pool. I must give up the exquisite endorphin rush that follows a near-vomit workout. I must not try to take advantage of a good day to try to be more productive. I just need to keep to my routine and enjoy the diminished symptoms for a day.
Ugh.
This mentality is boring. Very boring. Borderline lazy. It is counter to every ounce of an indefatigable work ethic that has been a fundamental part of my psyche since I was four years old. But these flares are all consuming and they are stronger than my self-judgment.
So now, I must chop off all of the peaks in order to fill in the valleys.